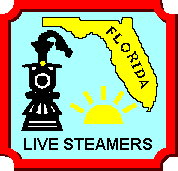 LIVE STEAMER and RAILROADING LINKS
No self-respecting Web site is complete without links to other sites of similar interest. This one is no exception!
However, I must admit that many people out there have done an excellent job of compiling link pages. In fact you probably found us through one of them. So consider this to be a sample of the live steam and related sites on the web, not a comprehensive listing.

Live Steam and Model Railroads
Ron Stewart's Live Steaming
This is the jumping off point for Live Steamers everywhere. You will find clubs, resources, pictures and more. Bookmark this one.
FLS and Affiliate Club pages
Tradewinds and Atlantic Railroad (Southern Division)
Jon Hollahan is starting this page for news and schedules for the Tradewinds track. Check it out as it grows.

Largo Central Railroad (Central Divison)
A well established page with schedules, photos and current newsletters.

Fort Taylor & Southwestern Railroad (Northern Division)
This page chronicles the progress being made on this track in the Northeast of Florida.

Bocock, Boots & Western Railroad Private Track.
This track, situated close to the Tradwinds track is owned and operated by Cpat. John Boots. Visitors are welcome by appointment.

The Ridge Live Steamers
The Ridge Live Steamers now have their own page, maintained by John Henry Dye.
Other Live Steam Clubs
Colorado Midland Railway
A nice site of Rich Dean's railroad with plans for a steam whistle you can build and several useful links.

Ozark Livesteamers
Details of the Ozark Livesteamers with meet dates etc. maintained by Gary Winstead.

Bitter Creek Western Railroad
Dan Andrews maintains this page with details, schedules and track layout of this private track. Livesteamers are welcome to visit.

Carillon Park Rail And Steam Society
This is a new web site for an established club in Ohio, maintained by Joe Mock. Some pages are yet to be completed, so check back frequently.

The North London Society of Model Engineers This site promotes many aspects of model railroading from Live Steam, locomotives, stationary and marine to OO and HO gauge.

The Wabash, Frisco, and Pacific Railroad Association, Inc.
The Wabash Frisco and Pacific Association invites you to come aboard their 12 inch gauge live steam Railroad. Detail are on their attractive home page.

The Houston Area Live Steamers
A new club page on the Web with track plans and a map to the site. Other information and newsletters are also available.

The Goleta Valley Railroad Club
This is a new site, still under construction, but check it out for meet schhedules etc.

The official Los Angeles Live Steamers site
Los Angeles Live Steamers by David Lazarus.
Los Angeles Live Steamers by Phil Tucker.

Mid-South Live Steamers
This site is maintained by Michael Haywood and Brian Hadfield. The Mid-South Livesteamers are in Columbia Tennessee.

Pioneer Valley Live Steamers
Jim Cook maintains this page for the Pioneer Valley Live Steamers. Nice track plan and event schedules etc. This is for those in the Massachusetts area.

Southern California Live Steamers
This is a new URL for this site..

Dublin & Granville Western RR
Dick Wieboldt has put up information on about three clubs here.

Hutt Valley (NZ) Model Engineering Society
An active club in New Zealand.

LIVE STEAM
An Australian Site.

Chesapeake & Allegheny Live Steamers
Another excellent club site by Paul Seyfrit. Paul has beaten me to the line in providing an excellent roster of the locomotives to be found at his club. Also check out his "What it does" page and get a guided tour of a steam locomotive.

Kitsap Live Steamers
New URL This site, now maintained by Ron Gates has moved to a new location.

Small Scall Live Steam
An excellent resource by Vance Bass on Live Steaming in the smaller scales and gauges. If you into G scale, Gauge 1, 0 gauge etc. and small garden layouts this is the place for lots of information.
Steam in the Garden - On Line
This is the "on-line" version of Steam in the Garden magazine edited by Richard Finlayson. Small gauge live steam stuff.
Mike Chaney, Model Engineer
Mike has been making live steam locomotives for garden railways since 1987. His site has a nice photo gallery and a very interesting FAQ page on small scall live steam.
NMRA on the Web
The National Model Railroad Association.
Homeport of s.s.Styrbjvrn 1910. "The first Live Steaming Site in Norway."
This is for those interested in Steam Ships. A new site, so watch it and see how it grows.
Toy Steam Engines
An interesting page of vintage toy steam engines by Robin Corsiglia, some from the late 1800's. I still remember my first Mamod! (Sigh)
The Model Engineer Support Page
A page for Model Engineers of all persuasions. Somewhat British bias on the locomotive side so far, but it has the King of lathes as its background, the Myford, so it must be good! The Workshop Hints section is worth checking.
John Foley's Builder's Notebook
John is a member of the New Jersey Live Steamers and is building a Maxitrak "Sapphire", among other projects. His "Builders Notebook" describes his progress and gives some plans for a simple to build Gauge 1 wagon.
Full Size Railroading Sites
Florida East Coast Railway New URL
A site about this historic and sometimes controversial rairoad. Pictures, stories and other information updated monthly.
Tri-Rail - South Florida's Commuter Rail System
Information on the "real" trains in South Florida.
Cyberspace World Railroad Home Page
This site by Daniel Dawdy will get you anywhere! Lots of information, links and photos.
WEBVILLE AND HYPERTEXT RAILROAD COMPANY
Another "well connected" site.
Steam Locomotive Information (Note - New URL)
This site by Wes Barris is a must for steam enthusiasts. Predominantly North American.
Mark Dewell's Railway Preservation Pages
And this is the ultimate site for Steam in the United Kingdom.
COMMERCIAL SITES
Sulphur Springs Steam Models The nearest thing to Reeves on the left side of the pond. Materials, fittings, locos (mainly gauge 1) and marine steam plants, books and plans. This is an essential resource for the small gauge livesteamer.
Blackgates Engineering
Suppliers To Model Engineers of Drawings, Castings, tools and materials.
Mine Car Wheels Joe Powell supplies cast 12" dia mine car wheels in aluminium.
MDM Locomotive Works This is a company that supplies 1 1/2" scale diesel locomotives, power trucks and accessories.
Steam Trains, Engines And Models (S.T.E.A.M.) Currently this page is predominantly about the O.S. range of live steam locomotives. There is also a FAQ on large scale live steam.
The Model Engineering and Home Shop Web. This site looks like becoming a jumping of point to model engineering suppliers.
A.J. Reeves Model Engineers. Reeves now has parts of their catalogue on the web. A "must visit" site for all live steamers. Reeves supplied the drawings and castings for the gauge 1 locomotives I am building.
Living Steam Railways Home Page (Roundhouse)New Address
Roundhouse Engineering manufacture locos, kits and parts for the Gauge 1 Live Steamer. From experience I can tell you they are very helpful.
Sherline tools have a Web page. I use a Sherline lathe and mill and am very pleased with them both.
South Shore Communications sell Railroad videos. Their catalogue is on line.
Copyright © 2003, Larry Boyce
Last Edited - 2003
Return to FLA Live Steamers Home Page